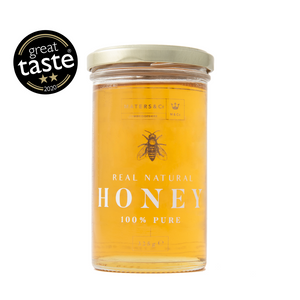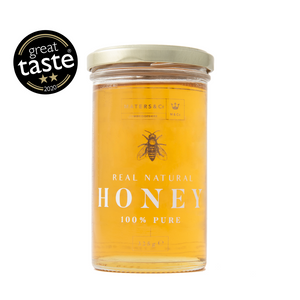 Pure Cambridgeshire Summer Honey
A Beautiful Light Floral Meadow Honey
*A 2 STAR GREAT TASTE AWARD WINNER 2020!
This beautiful pure summer multifloral honey is produced in the Cambridgeshire countryside during the summer months. It has a delightfully delicate floral flavour with a light yellow colour. A best-seller at the BBC Good Food Show!
A 2 star Great Taste Award winner for 2020 with one of the judges commenting:
"Delicate, fruity, almost apricot notes. This honey is quite complex in flavour with a great length, delivering long after the initial taste. A truly delicious mouthful."
And another commenting:
"Such a pretty and delicate colour, and this is mirrored in the wonderfully fragrant flavour with subtle yet noticeable floral notes. Lovely honey."
This honey may crystallise over time in cold temperatures and may turn a creamy white colour. Simply place the jar in some hot water for a few minutes to make the honey runny again.
Uses
With its light flavour, this multi-floral honey is great in baking, smoothies, marinades, salad dressings and sweetening tea.
Not sure about the taste? Why not purchase our beautiful 45g mini jar to sample the taste! 
Produce of Cambridgeshire, UK
Yummy honey
I am really enjoying the Raw Borage Honey from Maters. I'm not sure it's helping with my allergies but it is delicious, anyway. Frances Bailey
Cambridgeshire Summer Honey
This was the first Maters honey I tried from a taster set and it simply blew me away. Beautiful floral notes and absolutely delicious! Have already ordered a full size jar and will definitely be a regular customer.
Honey
Gorgeous honey. I can highly recommend
Yummy Honey
Bought the Cambridgeshire Summer Honey 10 days ago and in the next few days will be ordering some more, hardly any left, had a week of wonderful breakfasts. Thankyou
Light and lovely
Delightful to have a delicious honey made by my local bees. This honey is very tasty and is perfect for breakfast toast.