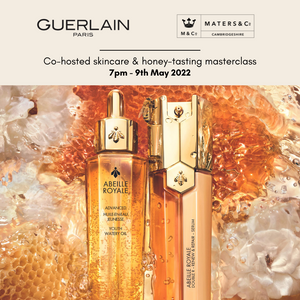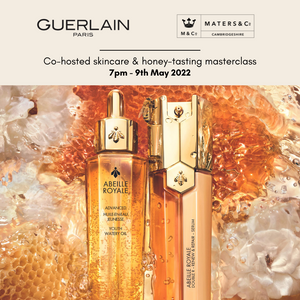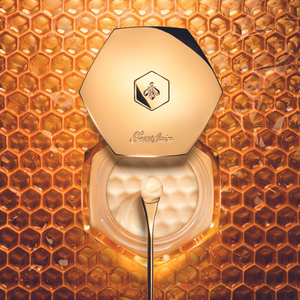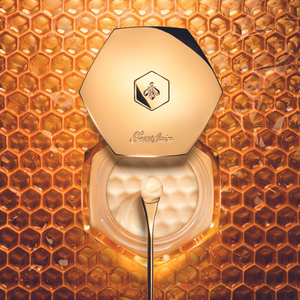 Co-Hosted Guerlain Masterclass
GUERLAIN SKINCARE & HONEY-TASTING MASTERCLASS
*

NEW MAY 2022 DATE ANNOUNCEMENT!

*
We are going LIVE with Guerlain for a unique skincare and honey-tasting masterclass to celebrate the Abeille Royale range & the bees, on Monday 9th May at 7pm.
For the past 10 years, Guerlain Research has been working continuously with Honey and Royal Jelly and their exceptional capacity to minimize the visible signs of ageing on skin. Discover the Guerlain Abeille Royale collection whilst you enjoy the stunning flavours of real honey.
Together we have designed a bespoke kit with everything you need to participate in this discovery session. This will comprise of our award-winning Honey taster set, along with complimentary and exclusive selection of Guerlain Deluxe Skincare miniatures, including the latest additions to the range.
Enjoy living this exceptional masterclass in the comfort of your own home with the expert guidance of Kate Maters, Maters & Co co-founder and Olivia Devey, Guerlain National Beauty Expert
Link to the online workshop, taking place Monday 9th May at 7pm will be sent to you prior to the session.
The kit will include:
1x Acacia 45g, 1x Cambs Spring 45g, 1x Premium Oak 45g, 1x Scottish Heather, 1x Eucalyptus, 1x Mini Honey Dipper, 5x wooden tasting spoons.
Exclusive selection of Guerlain deluxe skincare miniatures.
Booking closes Monday 2nd May at 11pm! Open to UK residents only.
Great masterclass
I really enjoyed this masterclass. I am honey lover since childhood. Having bee keeper family member made me use real honey all my life. I never bought mass produced fake "honeys". I loved tasting samples of different honeys.
I'm looking forward for similiar experiences.
Goldz
Thanks and amazing products
An informative and Exceptional Evening
What a fabulous masterclass. It was fun, interactive, delicious and so informative. Thank you to both Maters and Guerlain
A lovely event!
Had such a nice time learning about and trying all of the different honeys, all of which were delicious. Lots of interaction with the hosts via the chats, who were happy to answer any questions. The Guerlain products were lovely to use and learn about too. I would highly recommend the class. I had a great time x
Very Informative Masterclass
Amazing webinar, i learned a lot about different types of honeys and the lovely Guerlain products. I love bees and it is very important to know how we can help them. The lady who run the masterclass was very passionate about bees