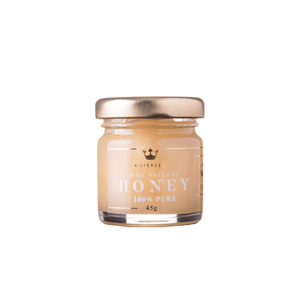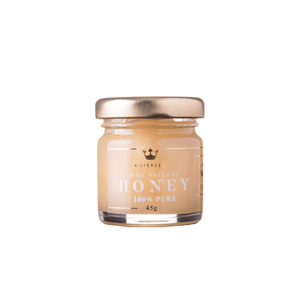 45g Honey Jars (Sampler Size)
Beautiful sampler sized honey jars
Our sampler sizes all on one page! A cute 45g size perfect for any breakfast table, sampling a flavour before purchasing a larger jar, or for those beautiful grazing boxes, corporate hampers and picnics! These jars are completely plastic-free as they are printed on directly and can be recycled or used again!
Make your selection below of the type of honey you would like, remember they are all raw and unprocessed, their names reflect the type of flower or plant the bees were feeding on, or the season/area that they were harvested in. We never infuse or add flavours to our honey, they are completely natural and 100% pure.
Scrummy flavours
The flavours in the 2 honeys were very different to each other- I've never understood what people mean by the variations in honey tastes till I had 2 jars on the go. Both were lovely, but with hints of differences.
Delicious honey
The sample jars are a little small.
So happy with my purchase
I'm so glad I got the sample jars to try, they all taste totally different, very pleasant to enjoy. Will definitely be buying more flavours to try.
Yummy honey
Love my tasters of honey ,all lovely ,highly recommended, going to buy the bigger jars .yummy don't miss out, there delicious buy now
Super
A very useful size yo try a new taste.