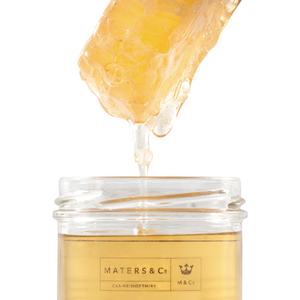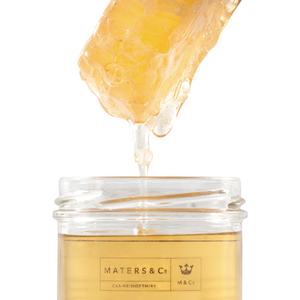 British Borage Honeycomb in Borage Honey Jar
Delicate Succulent British Borage Honeycomb in Honey
This is a first, our stunning Borage honeycomb harvested in early August, with just a 3 week period where the bees produce this smooth mild unique floral honey.
The honeycomb is super popular, and now we introduce this gorgeous honeycomb in a jar of borage honey. This honey, also known as starflower, has a very pleasant mild taste with hints of flora. It is one of the lightest coloured honeys available with a smooth consistency and another sell-out at our events.
A unique honey in its profile, texture and taste. This delightful honey has subtle flavours and is mouth-wateringly smooth. It is a beautifully light colour nectar brought to us by bees that love British starflowers. This all culminates in a pure real honey created from bees that pollinate with this blue super flower. 

*UPDATE - very small harvest so far due to the weather!
Uses
It is very versatile in recipes such as: cakes, cookies, dessert toppings, ice creams, warm honey teas, salads and meat glazes, this is because its light flavour does not tend to alter the taste of a dish.
Produce of UK
Beautiful
This honey is alarmingly moreish - light, flowery taste of summer in a jar. I have it on toasted French brioche - perfect.
As before, a superb flavour. Thank you.
Delicious
I had no idea that honey could be so addictive. I love the chewy comb and the honey itself is wonderfully floral. It is so delicious that I can't resist a spoonful every time I go to the fridge.
Excellent in every way!
This beautiful honey contains honeycomb tastes fantastic! Don't hesitate if you have the opportunity to acquire some!
Fresh!
Very lovely honey with chewy comb. Delicious.