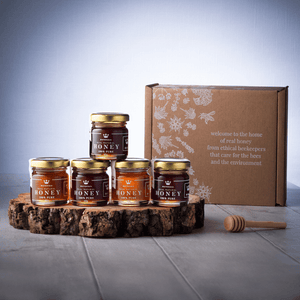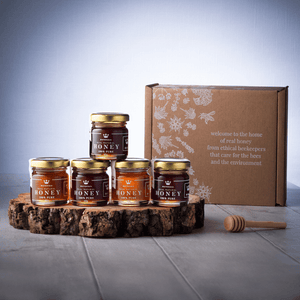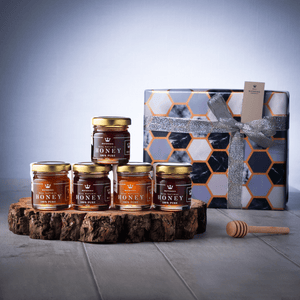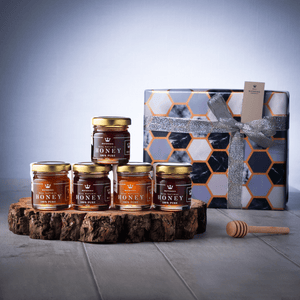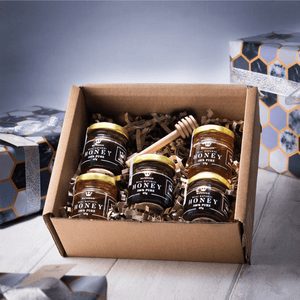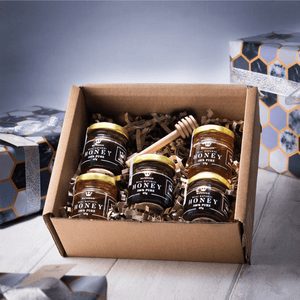 Strong Honey Taster Box - 5 Beautiful Sampler Jars & Mini Honey Dipper
A wonderful foodie lover's gift or sampling box for yourself! 
This beautiful selection will take you through the various remote Spanish regions savouring the rich, caramel and malty tones of our premium Oak honey. You will also sample the unique rich, earthy flavour that is our Mountain honey and onto our stunning Heather honey with its delightful aroma. Rounding off with our slightly herbal Wild Thyme honey and our stunning chestnut honey.
This Taster Box is packed by hand into a presentable branded box with the cutest mini honey dipper, a great way to sample this range. It also makes for a beautiful gift for any honey connoisseur with our luxury gift wrapping!
This Box Includes:
1x Mountain 45g, 1x Premium Oak 45g, 1x Wild Thyme 45g, 1x Spanish Heather 45g, 1x Chestnut 45g, 1x Mini Honey Dipper
Want to replace one or two for another flavour? Not a problem! Just pop it in the notes on the checkout page and we will replace it with your choice!
A sweet surprise !
The family lived receiving these raster honeys in the post. 'Delicious' was the overall response.
The Best Honey
Maters honeys are so delicious, no comparison to any you can buy at a supermarket. Expensive but well worth it.
Splendid choice of samples
Have now tried all samples and enjoyed all,difficult to. List favourites I will keep varying in larger jars.
Gorgeous honey.
Wonderful thank you full of goodness.
Absolutely beautiful. Delivery was perfect and on time.