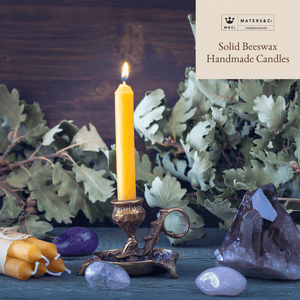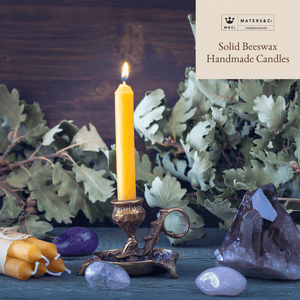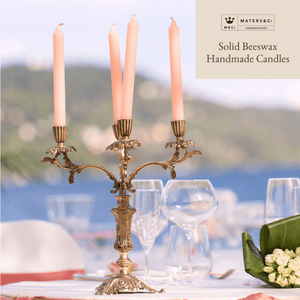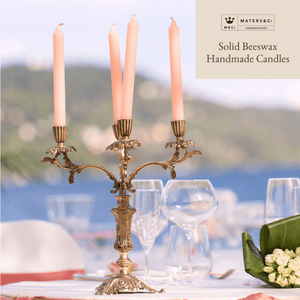 Solid Pure Beeswax Candles 20cm x 1.9cm
Solid Hand Moulded Beeswax Candles
These solid pure beeswax candles with cotton wicks are hand moulded in small batches by our fellow beekeeper. Each candle is individually poured and left to cure naturally for over 12 hours before ends are individually sealed. The candles are made entirely from British beeswax, sourced from the bee farmers' own hives, which has been triple filtered to give a beautiful clean burning candle. They also have a stronger aroma of our Cambridgeshire Spring honey!
As pure beeswax candles are all natural, they do not produce toxic by-products and heavy soot when lit. Some candles produce minute traces of chemicals known to be carcinogenic as they contain petrochemicals which can be harmful when breathing in for long periods of time.
When honey bees make their wax, it's usually an off-white colour, the beautiful golden hue and scent comes from the honey, nectar and pollen which get mixed in during the honey harvest and processing, all of which give them a completely natural scent and colour.

Beeswax candles naturally emit negative ions. This process binds dust, odour and allergen particles together in the air, making them too heavy to float around and pulling them to the ground where they can be easily swept up and never find their way into your lungs and sinuses. This especially makes beeswax the ultimate burn for anyone with asthma, allergies or sensitive sinuses.
Each pair is carefully wrapped in our branded tissue paper.
✔100% pure British beeswax
✔subtle honey scent
✔sourced and made in the UK
✔no toxicity
✔hypoallergenic
✔environmentally friendly
✔self trim, lead free wick

Size: 20cm x 1.9cm (8 inch by 3/4 inch)
Weight: approx 115g
Burn time: approx 6-8 hours