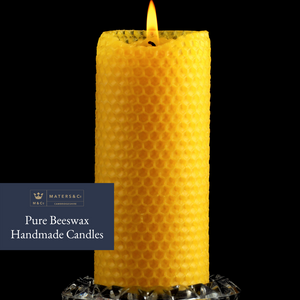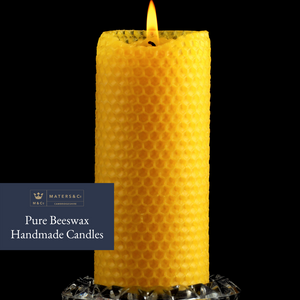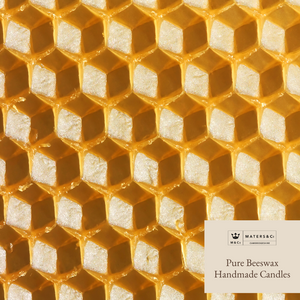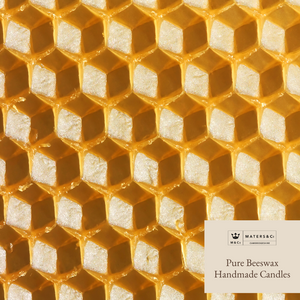 Pure Handmade Beeswax Pillar Candle 20cm x 5cm
Our quality, British, hand-rolled 100% natural beeswax candles have been made using self-trim, lead-free 100% cotton wicks making them drip free. They are a pure, natural product made from pollen-rich beeswax giving them a lovely yellow colour and subtle honey scent.
When honey bees make their wax, it's usually an off-white colour, the beautiful golden hue and scent comes from the honey, nectar and pollen which get mixed in during the honey harvest and processing, all of which give them a completely natural scent and colour.

Beeswax candles naturally emit negative ions. This process binds dust, odour and allergen particles together in the air, making them too heavy to float around and pulling them to the ground where they can be easily swept up and never find their way into your lungs and sinuses. This especially makes beeswax the ultimate burn for anyone with asthma, allergies or sensitive sinuses.
As pure beeswax candles are all natural, they do not produce toxic by-products and heavy soot when lit. Some candles produce minute traces of chemicals known to be carcinogenic as they contain petrochemicals which can be harmful when breathing in for long periods of time.
Beeswax candles have the brightest, purest light of any candles and are closest to natural sunlight. If the candles are to be used as a light source, this can help minimize eye strain and reduce headaches.
Each candle is carefully wrapped in our branded tissue paper and sealed with our label.
✔100% pure British beeswax
✔subtle honey scent
✔sourced and made in the UK
✔no toxicity
✔hypoallergenic
✔environmentally friendly
✔self trim, lead free wick
✔non-drip
Size: 20cm height x 5cm width 
Weight: 135g
Burn time: approx 14 hours 
Beeswax pillar candles.
My candles arrived excellently packaged and delivered in great time. I will definitely be buying again. ❤️
Beeswax pillar candles
Perfect service. Quick arrival beautiful products and very well packaged. We will order again. Thank you
Outstanding !
What else can I say ? It's the best candle ever and ofcourse natural ! Can't stop buying , so addictive only because it's so pure and amaizng !
Honey and candles
The most amazing tasting honey from sources you'd never think were available in making different tasting honey. Their honey comb is award winning. All in all. Best honey I've tasted in years. Thank you
Elizabeth Peever [****]
Nice, but....
Its good that the candles don't smoke when they are lit, but they do seem to smoke for a while after you have blown them out - not had it going long and the wick seems to have disappeared into the candle.... this seems to happen with any candle I buy no matter if it is cheap or expensive - nice but a bit pricey if they are not going to last!