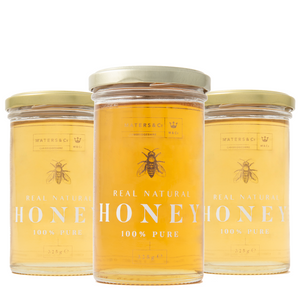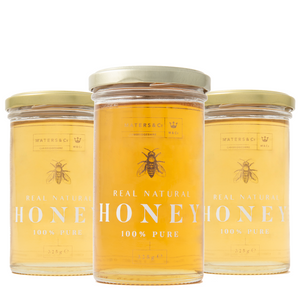 The Cambridgeshire Honey Collection (3x 325g Jars)
The Definitive Collection of Cambridgeshire Honey
Due to popular demand we have now made our beautiful Cambridgeshire honeys available to purchase together, a stunning collection of pure and natural British honey from the pristine countryside far removed from traffic, pollutants and chemicals.
Our raw Borage honey, also known as starflower, has a very pleasant mild taste with hints of flora. It is one of the lightest coloured honeys available with a smooth consistency and a sell-out at the BBC Good Food show. A unique honey in its profile, texture and taste, this has also been submitted to the Guild of Fine Foods for the 2020 awards!
Our raw Spring multifloral honey is produced in the Cambridgeshire countryside and harvested in the spring. It has a beautiful delicate floral flavour with a light yellow colour. 
Our raw Summer honey was a winner at this years Great Taste Awards and described as "Such a pretty and delicate colour, and this is mirrored in the wonderfully fragrant flavour with subtle yet noticeable floral notes. A lovely honey." Our pure summer honey is produced in the Cambridgeshire countryside during the summer months and harvested in late August/September.

* Please choose from the options below for the jars on their own, in our beautiful bespoke gift box or in our bespoke gift box with gift wrapping making it the perfect gift!
Uses
These honeys are very versatile in recipes such as: cakes, cookies, dessert toppings, ice creams, warm honey teas, salads and meat glazes, this is because their light flavours tend not to alter the taste of a dish whilst adding that slight sweetness and finish.
The honey may crystallise over time or in the cold and turn a creamy white colour. This is the honeys way of preserving itself and does not indicate that it has gone bad or that it is full of sugar! You can place the jar in some hot water for a few minutes and the honey will begin to go runny again.
My Favourite Everyday Honeys
I would give 10 stars if I could! A wonderful mixture of my favourite light, delicate, sweet goodness all in one large jar set. I bought this set as a result of trying the 45g tester jars first and I fell in love. In the past week I have spent over £380 across 7 orders on delicious honey from this amazing company. Eveytime I placed an order I realised I wanted to try more and more and got completely carried away, but I don't regret it one bit! Eat honey with almost every meal, so I've got enough honey to last me at least a year. I've left several honest reviews about my experience with the honey and this company. I simply can't get enough, I am completely obsessed. This company has great ethical values. They care about the environment, the welfare of the Bees, and the quality of the produce. They work closely on a personal level with the beekeepers to ensure the highest possible quality and authenticity of the produce origins. I have definitely found my number one honey supplier for the rest of my life. I have tried honeys from all over the world, but their honey shines above the rest. I am so grateful and feel honoured to have tried and compared so many varieties of honey from one company. I would undoubtedly buy this set again. Delivery is prompt, Packing is done well and with a personal touch, really lovely company and customer service is 5 stars! They have a customer for life now. Thank you for everything 🐝💛🍯
Yemeni sidr with royal jelly
Beautiful honey, so pure and sweet in taste.. the royal jelly is a wonderful combination with the Yemeni Sidr..
Highly recommend..
Search the benefits of royal jelly :)
The Cambridgeshire Honey Collection (3x 325g Jars)
Super
I loved the speed of delivery and the way the parcel was packed. The honey is delicious too.
Spring , summer collection
Discovered the brand last year and will now only buy this honey. Ordered several sample sizes this time so looking forward to trying some different flavours. Delicious.