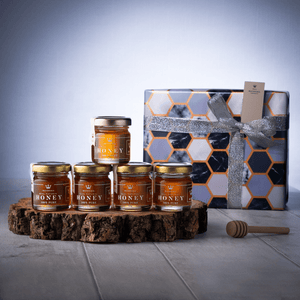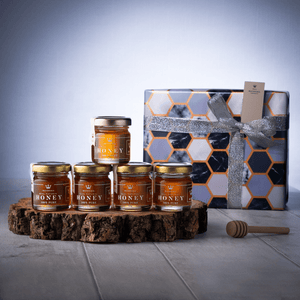 NEW! Rare Honey Taster Box - 5 Beautiful Sampler Jars & Mini Honey Dipper
A Stunning Selection of Super Rare Honeys
After receiving many requests we have now made available this beautiful Taster Box comprising of our most rare honeys - and some of the most rare in the world. Behold the ultimate rare honey Taster Box.
This Box includes:
Yemeni Sidr 45g - a butterscotch caramel-like honey from the valleys of Yemen known for its health benefits & amazing taste
Taif Rose Honey 45g - an exquisite honey harvested from the famous mountainous rose gardens of Taif in the province of Makkah, naturally tasting like roses
Avocado Honey 45g - dark creamy honey with savoury tones to the flavour thanks to the potassium & phosphorus content from the avocado blossom
Blackberry Honey 45g - a dark, rich and fruity honey with a berry tang to the flavour, a firm favourite since being available
Pink Thyme Honey 45g - a stunning honey with tones resembling cotton candy/candyfloss, a top award winner at the Great Taste awards
Mini Honey Dipper
Each one of these honeys is rare in its own right and have its own health benefits which cannot be enumerated. All are completely raw, natural and single origin/single varietal. We work closely with beekeepers who have similar ethics to our own in looking after the bees and the environment, likewise, they are lab-tested to check the pollen/nectar content to make sure they are authentic and eligible to be classified as single-varietal.
The Taster Box is packed by hand into a presentable branded box and comes with the cutest mini honey dipper to compliment the 45g jars, a great way to sample the complete range of super rare honey. It also makes for a beautiful gift for any honey connoisseur with our luxury gift wrapping! 
Due to these varieties being very rare and small-batch, we have made only a few boxes available, so order yours before they disappear!
Produce of Yemen, Saudi Arabia and Spain
Excellent taste amazing
The best honey I have ever tasted
Mixed Review
This review is rated at 5 stars, but for personal taste I have to give 2 stars. I only liked 1 out of the 5 honeys in this set (Yemeni Sidr) as a result I purchased 2 full sized jars. I was very excited to try RARE honey. I appreciate all the hard work that beekeepers go through to harvest this liquid gold. After trying this variety, I quickly realised I definitely prefer the lighter, more milder honeys. I do feel privileged to have had the opportunity to have tried these rare beauties. Sadly, I couldn't appreciate them to the fullest because of my own personal taste. That's why I have a 5 star review because its not the Bees or the flowers fault that I am not overly excited over their produce! But 100 percent recommend this for the deep, strong, dark flavour seekers! I wouldn't buy this again, but I highly recommend Maters&Co. Delivery is prompt, Packing is done well and with a personal touch, really lovely company and customer service is 5 stars! They have a customer for life now. Enjoy your honey!
Quality products
Beautiful tasting honey.. sooo pure
Delicious nutritious quality honey
I am a real honey lover but wasn't sure of the effect on my glucose levels. Then I researched and discovered raw honey actually supports the immune system, regulation of cholesterol and many other benefits. Just received my rare honey sampler set. Wow! The descriptions of each honey give you an idea, but to taste them, pure heaven in a jar! Straight back to order the set honey. Well done that seller!