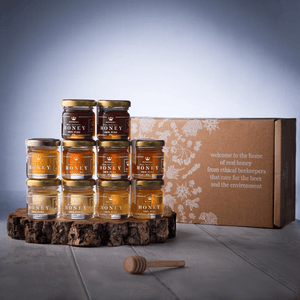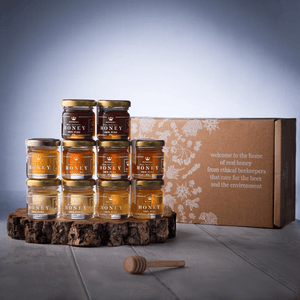 10 Jar Taster Sets - With Mini Honey Dipper
A stunning selection of pure honey to delight a foodie friend or a fabulous way to sample the range before purchasing the larger jars!
The selection starts from the beautiful vanilla tones of our Hungarian Acacia honey to the floral Cambridgeshire Spring & Borage honey harvested in their respective seasons. You will also get a jar of our fragrant Scottish Heather honey which has its own unique texture and colour followed by the mild tang of our Spanish Lemon Blossom honey.
You will also go through other remote Spanish regions savouring the fragrant flavour of the Lavender honey that our expert beekeepers harvest whilst moving to the rich, caramel and malty tones of our premium Oak honey. You will also sample the uniquely rich, earthy flavour that is our Mountain honey and our stunning Heather honey with its herbal aroma.

The taster sets are packed by hand into a presentable branded box and now come with the cutest mini honey dipper to compliment the sets, a great way to sample the complete range. It also makes for a beautiful gift for any honey connoisseur with our luxury gift wrapping!

The Selections
The 10-jar selection includes:
1x Acacia 45g, 
1x Cambs Spring 45g, 
1x Cambs Summer 45g, 
1x Lemon Blossom 45g, 
1x Cambs Borage 45g, 
1x Lavender 45g, 
1x Premium Oak 45g, 
1x Rare Pink Thyme 45g, 
1x Mountain 45g, 
1x Spanish Heather 45g
1x Mini Honey Dipper 
*Have you seen our other taster sets?
British Honey 5 Jar Taster Set

The Ultimate Taster Experience (12 Jars)
Seasonal Bundle Special!  - BUY 2 & SAVE £4!
Wonderful!!!
This is a lovely set, a mixture of light, dark, rich, sweet, deep flavour goodness all in one set. It's a great gift idea or to try before you buy the bigger jars. Since my purchase, I have discovered that I do prefer lighter coloured honeys compared to their darker cousins. I have tried a wide range of them now and buying these small jars are a wise choice. I would definitely buy this again, I highly recommended. Delivery is prompt, Packing is done well and with a personal touch, really lovely company and customer service is 5 stars! They have a customer for life now. Enjoy your honey!
Great honey
Very tasty, highly recommended
10 Jars of Mini Different Flavours of Honey
I never use to like honey…But I love putting honey on my tea's. My first time purchasing from Maters & Co. There are lots of different honey flavours! I don't know what to choose…I decided to go for the 10 mini tasting jars. There are 10 different flavours of honey, and they were absoloutely amazing!!!!! I love the lavender flavoured honey, and I can taste the lavender in it. That's 3 jars I finished so far…😅😅😅 I highly recommend Maters & Co. The honeys are real quality flavour. I will be buying more soon!!!😁😁😁
A wonderful gift!
I brought this for my Nan who absolutely loves honey. All the little details were lovely, funnily enough her name is Heather and she had some Heather honey which she was over the moon about. A fun little coincidence but there you go! the delivery was quick and I got it gift wrapped and it came to me looking lovely. Really happy and will be ordering again thank you so much!
10 jar taster set
Love love love 💓 They taste completely different to normal jar honey , we've nearly gone through the whole box and will definitely be ordering more . Thank you 😊