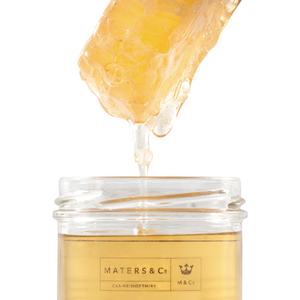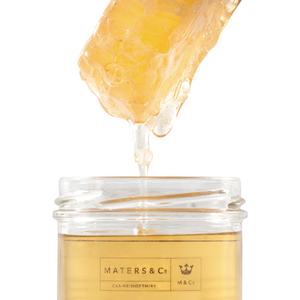 British Borage Honeycomb in Borage Honey Jar
Delicate Succulent British Borage Honeycomb in Honey
This is a first, our stunning Borage honeycomb harvested in early August, with just a 3 week period where the bees produce this smooth mild unique floral honey.
The honeycomb is super popular, and now we introduce this gorgeous honeycomb in a jar of borage honey. This honey, also known as starflower, has a very pleasant mild taste with hints of flora. It is one of the lightest coloured honeys available with a smooth consistency and another sell-out at our events.
A unique honey in its profile, texture and taste. This delightful honey has subtle flavours and is mouth-wateringly smooth. It is a beautifully light colour nectar brought to us by bees that love British starflowers. This all culminates in a pure real honey created from bees that pollinate with this blue super flower. 

*UPDATE - very small harvest so far due to the weather!
Uses
It is very versatile in recipes such as: cakes, cookies, dessert toppings, ice creams, warm honey teas, salads and meat glazes, this is because its light flavour does not tend to alter the taste of a dish.
Produce of UK
Great honey. Very impressed.
Honeycomb
I was delighted with my order of one of your honeycombs. As to the taste I can't say it was bought as a gift for Christmas for my lovely friend. Your presentation is amazing and I loved the honeycomb wrapping and I know my friend will love it.
Lush Honey
This honey is absolutely delicious, so nice it's almost gone! I will buy again 😁
Delicious!
Lovely lemony taste and beautiful packaging - a lot of care has gone into making this the perfect gift!
Devoured in 3 days
My son has been asking for honeycomb for sometime, I saw the ad and so bought some for him, it was pretty much eaten in a day 😂 so that in itself is a great review