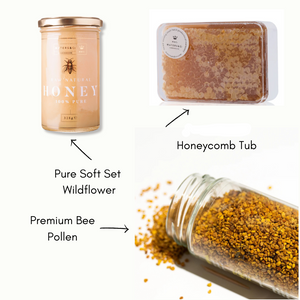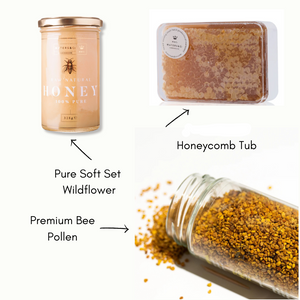 Superfood Raw Honey Bundle
It is especially important to focus on nutrition during the cold and flu season, as it can help to build up our body's immune system and protect us from potential viruses. 
Eating foods that are high in essential nutrients, vitamins and minerals, such as raw honey and bee pollen is a great way to help keep our bodies strong and healthy. 

By combining these three superfoods with these healthy habits, you can help ensure your immune system is well-equipped for the season ahead.

Our Superfood Raw Honey bundle contains 3 of our most potent Superfood Honeys, so you can enjoy each and every one of our unique flavours.
To take advantage of this great saving make your purchase today as stocks are subject to availability due to the seasonal nature of these products.
IN THIS BUNDLE
🐝🐝🐝🐝🐝🐝
Pure Premium Bee Pollen 175g
Fresh Raw Acacia Honeycomb Tub 200g
 Pure British Soft Set Wildflower Honey 325g
Pure Premium Bee Pollen 175g


Elevate your well-being with our premium single-origin Bee Pollen, nature's ultimate superfood. Harvested from the most pristine, pesticide-free fields, our bee pollen is a treasure trove of nutrients, vitamins, minerals, enzymes, and antioxidants. Each golden granule is meticulously collected by the bees and mixed with a little nectar and honey to form this potent superfood.

Bee pollen contains clean protein, free-forming amino acids, and essential nutrients. It is high in B vitamins, which support energy production and are critical to thousands of processes within the body. Bee pollen is used by many pro athletes to help enhance athletic performance and promote speedy recovery after a tough workout.
Experience an improvement to your vitality as our bee pollen potentially enhances your immune system, supports natural energy levels, and promotes healthy digestion. The rich blend of vitamins, minerals, protein and amino acids nurtures your body from within, while its natural floral aroma invigorates your senses.
Once opened please refrigerate.
Produce of Spain
Uses
Bee Pollen is a versatile addition to your daily routine. Upgrade your smoothie, salad, yogurt, popcorn, or dessert with a teaspoon of this power fuel. You can also blend bee pollen to make a multi-use powder to sprinkle on your toast, ice cream, chocolates, and other sweet treats.
Fresh Raw Acacia Honeycomb Tub 200g
This fresh raw Acacia honeycomb from Hungary is a luxury pick for any connoisseur of honey. This succulent honeycomb harvest promises a special sensory experience, boasting aromatic vanilla notes with the bees feeding from the false acacia tree. Harvested in early June, this is as fresh as it comes.

The most nutritious of all raw honey is honey still sealed in the wax cells of the honeycomb. Honey in its purest form (inside the cells) contains very little water. But honey, when exposed to air, has a tendency to pull water from the atmosphere. Thus ensuring honeycomb honey is packed with vitamins, enzymes, pollen, and antioxidants.

It possesses a pleasant mild taste with hints of vanilla, making it a suitable treat for all the family.

The wax can be eaten although it can be chewy and makes for a good, natural alternative to chewing gum. However, it isn't advisable for it to be consumed in large quantities.
Produce of Hungary 
Uses
Honeycomb is very nutritious, it is so versatile in how it can be eaten, whether it's added to a fruit salad, or topped onto yoghurt, toast, ice cream or cheese!
Pure British Soft Set Wildflower Honey 325g
Our British Soft set honey is gathered by bees from a wonderful mix of blossoms and wildflowers, sourced from our beekeeper in Northumberland, across the rural landscapes and rolling hills of North England and Scotland. Our British soft set honey is crystallised honey that's spun until it's smooth, spreadable, and 100% delicious - Mild in flavour and buttery in texture, perfect for spreading on toast in the morning.
Produced by our ethical beekeeper whose apiaries are located in the diverse landscapes of Tyne and Wear to the wilds of Northumberland. There is an abundance and variety of forage for the bees to collect nectar and pollen. Simply yummy honey adds flavour and sweetness without overpowering other tastes with its consistency of soft fudge.

This honey is best kept at room/ambient temperatures, we don't advise putting it into the fridge or a cold place as it will start to harden further.
Uses
With its light flavour this multi-floral honey is great on cereals, smothering generously on crusty farmhouse toast, or dolloping on your porridge oats!
Honey bundle
Best honey I've ever had and the bee pollen is amazing.
Fantastic quality, and you'll definitely be ordering more after you get through this😁
Quality at its best
Great tasting and absolutely love the propolis 👌