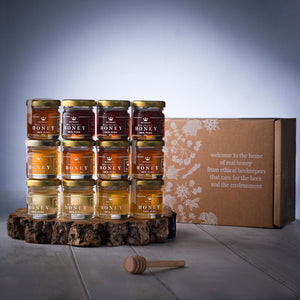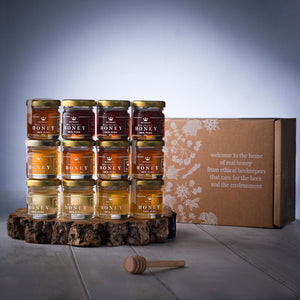 The Ultimate Pure Honey Sampling Experience - 12 Jar Taster Box
For the ultimate raw honey experience, choose our 12-jar Taster Box.

Whether it's for yourself or a gift this selection provides a tasting opportunity from across our entire range (some exclusions apply).
Sample the beautiful vanilla tones of our Hungarian Acacia honey to the floral Cambridgeshire Spring & Borage honey harvested in their respective seasons.
You will also enjoy a jar of our fragrant Heather honey which has its own unique texture and colour followed by the mild tang of our Spanish Lemon Blossom honey.
Get transported to remote Spanish regions savouring the fragrant flavour of our Lavender honey harvested by our expert beekeepers then go deeper into the rich, caramel and malty tones of our premium Oak honey.
Included in this beautiful box set is our uniquely rich, earthy flavour which is our Mountain honey and our stunning Heather honey with its herbal aroma.

The Taster Boxes are carefully and lovingly hand-packed into a presentable and eco-friendly box complete with the cutest mini honey dipper.
This raw honey Box makes for a beautiful gift for any honey connoisseur with our luxury gift wrapping! They have also been purchased for the individual mini jars to be presented as table gifts or wedding favours.

The 12-jar selection includes:

1x Acacia 45g
1x Cambs Spring 45g
1x Cambs Summer 45g
1x Lemon Blossom 45g
1x Cambs Borage 45g
1x Lavender 45g 
1x Premium Oak 45g
1x Rare Pink Thyme 45g
1x Mountain 45g
1x Spanish Heather 45g
1x Eucalyptus 45g
1x Wildflower Soft Set 45g
PLUS
1x Hand-crafted Mini Honey Dipper
Seasonal Bundle Special!  - BUY 2 SAVE £4!
Delicious Honey
I love all the honey in the sample pack. I'll find it difficult to choose which one to buy in the full size! Thank you so much for an amazing product (and to the bees🐝)
Was as good as the instagram clip 👍. Very good honey 🍯
Great gift
I haven't opened it as it's a gift for my Dad but it's boxed lovely and I know he'll really like it.
12 pot sample box
Great box of different honeys to try so you can find the ones you really like , definitely recommend
Exploring a set of diferents flavours !
It is a very cute set of variety of flavours in each pot, its nice honey, Wildflower, Spring honey, Eucaliptus, Aacia, Thime, Orange, Lavender, Spanish Heather, Mountain, Oak, etc, so on until 12 of diferntens of them, inside theres a wooden stick to taste the honey with it, lovely feauture! it arrived on time and to the right place!Thanks !