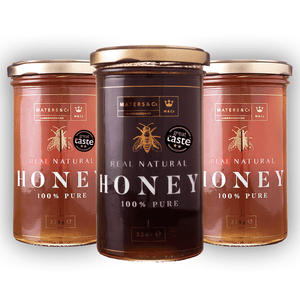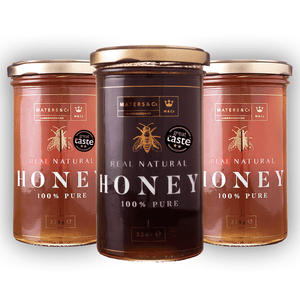 The Winter Wellness Collection (3x 325g Jars)
A Rich Collection of Potent Honeys For The Winter Months
The perfect collection for the colder months, if you have kids or elders in the house, you shouldn't be without these honeys in your cupboard. In this incredible winter wellness honey collection, we have our Premium Oak, Scottish Heather and Eucalyptus varieties, dark, rich and full of antimicrobial/antibacterial properties. The perfect collection of honeys to get you and your family through the winter months.
A 2020 Great Taste Award winner our premium raw Oak honey has come from the acorns of the Spanish oak tree. In the summer months, acorns release sweet nectar which the bees feed off. This produces delicious dark-toned honey with a depth of fruitiness and earthen flavours.
This oak honey has a much stronger flavour and caramel taste with a touch of fruitiness and subtle malt undertones. A delicious and overall incredibly tasty honey full of antioxidants and antimicrobial properties.
Our Scottish Heather is expertly foraged from resilient heather plants that cover the Scottish hills and countryside, this honey awakens the taste buds with its aromatic flavour and slightly bitter aftertaste. Known for its antibacterial and antimicrobial properties this honey rivals manuka in terms of medicinal use and content. It has a thicker viscous-like consistency along with being raw, natural and unpasteurised just like our other varieties.
Our stunning Eucalyptus honey is a delightful addition to our range. Harvested from the nectar of the blossoming Eucalyptus tree that is adored by the honeybee and equally loved by humans. This is a variety with a unique composition. It contains traces of eucalyptol which gives it a fresh revitalising taste. The perfect honey for coughs, colds and sore throats.
This honey is a must try for any honey lovers with its spicy but sweet taste and slightly biting notes rounding off with a toffee-like undertone. 
* Please choose from the options below for the jars on their own, in our beautiful bespoke gift box or in our bespoke gift box with gift wrapping making it the perfect gift!
Uses
With their lovely rich malty flavours these honeys are great for using in cakes, flapjacks, granola and some marinades. Many customers have also recommended them on toast and in porridge!
The Winter Wellness Collection (3x 325g Jars)
Lovely
Really funny, I made a large stock pot of chicken soup and ordered 3 jars of this lovely honey because I am in the middle of a move, turns out that I got sick with sore throat and blocked nose for a week. I was able to cure my sickness with natural remedies and paracetamol. Beats taking more antibiotics! Just make sure you take time to sleep it off! Love this raw honey, I only buy raw you can definitely taste the difference!
Lovely taste
Wow. So different to shop bought honey. 2 more jars to try. Will think about giving Honey as presents now.Quick delivery. Thank you.
Well being Honey
I didn't think I liked honey but I absolutely love it - I purchased it for my husband but he is gonna have to share it. My favourite is the dark one. They are all nice though