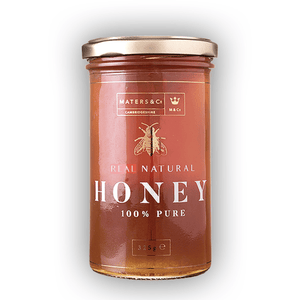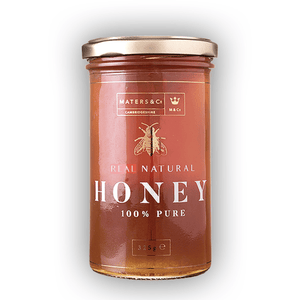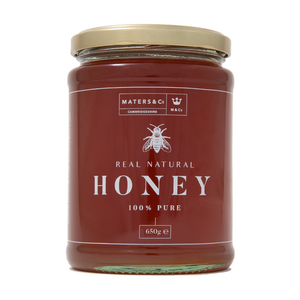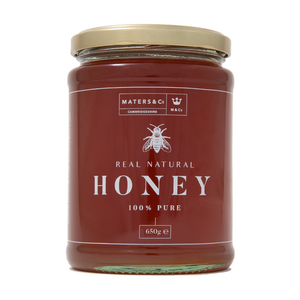 Pure Chestnut Honey
A Deep Earthy Fruity Honey
*Update* Due to a poor 2023 harvest, there is limited stock of this variety until July/August 2024.


Stunning and flavourful our chestnut honey has a rich sweetness, a hint of bitterness, and subtle caramel overtones. The flavour of the chestnut is retained, along with a taste that is somewhat reminiscent of maple syrup but richer and maltier.
Chestnut honey is one of the honey varieties with the widest range of flavour profiles, with variations from region to region and season to season. The incredible nutty flavour tone carries through beautifully making this honey ideal for pairing with greek yoghurt or that breakfast cereal.
Collected in late Spring from the pink and white flowers of the chestnut tree in the remote mountain regions of Spain, bees feed off the nectar of these flowers when they bloom for 10-20 days. A delicious and overall incredibly tasty honey full of antioxidants and antimicrobial properties.
The colour of the honey can vary due to seasonal variations, which is normal with all raw honey.
Uses
With its lovely rich earthy flavour, chestnut honey is great for use in flapjacks, granola and some cakes.
Not sure about the taste? Why not purchase our beautiful 45g mini jar to sample the taste?
Produce of Spain
A WONDERFUL HONEY FOR EVERYONE WHO LOVES A RICH, EARTHY FLAVOUR
Pink Thyme and Blackberry are still my first favourites. But this chestnut by name, rich, thick, chestnut by colour is a close second to them. It is exactly as described by Maters. It has a complex taste with sweetness, slight bitterness, a mix of slight maple syrup, caramel and malt. There's also a taste of what Maters calls an earthy flavour. This flavour is really difficult to describe. But it is what I love about many of Maters honeys. It's a taste and smell for me of something that's part of nature. Where can you find that earthiness in today's supermarket honeys? It takes me back to being a child again 75 years ago, playing and foraging in the forest undergrowth. A world that's long gone, of cob nuts, mushroom picking, berries from the hedgerows, and apples, pears, quince, cherries, strawberries, raspberries, blackberries, grapes and every kind of herb from our mother's garden. I suppose I enjoy Maters Blackberry honey from Spain for all the reasons I like their Chestnut honey. But the Blackberry also has the bonus of a slight hint of berry tang.
Delicious and rich
This pure chestnut honey with its deep rich flavour is very distinctive, rich and delicious for honey connoisseurs
Love the colour.
Great deep taste. Will buy again. 👍
Excellent Honey would highly recommend it
Heavenly
So enjoying exploring the different honeys. Chestnut favourite so far keep buzzing!