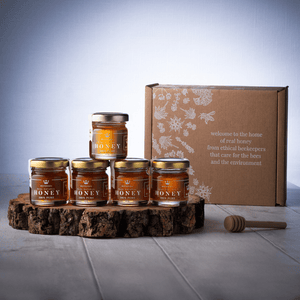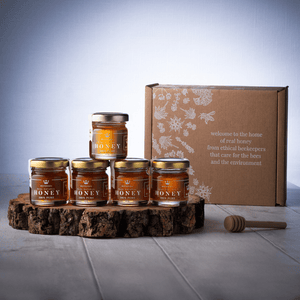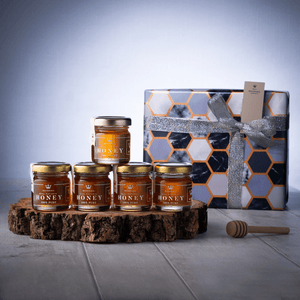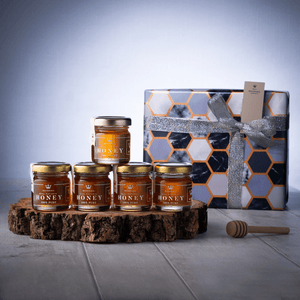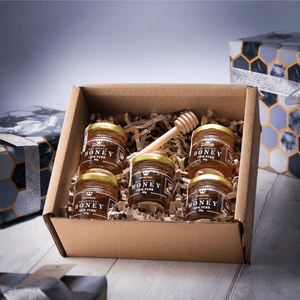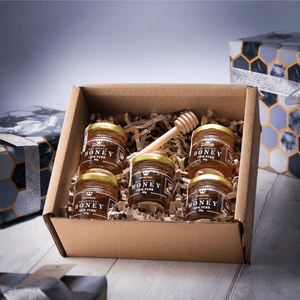 Herbal (Adventurous) Honey Taster Box - 5 Beautiful Sampler Jars & Mini Honey Dipper
A stunning selection of pure honey to delight a foodie friend or a fabulous way to sample the range before purchasing the larger jars!
Maters & Co honey is not infused at all, the hives are kept in remote areas where these amazing herbs grow in the wild.
This beautiful selection will take you through the various remote Spanish regions savouring the natural herbal flavours of our Delicate Rosemary honey that our expert beekeepers harvest moving to the potent Heather honey. You will also sample the award-winning Pink Thyme honey along with our popular Purple Lavender honey and finally onto our stunning Eucalyptus honey which is new to our selection and beautiful honey all around.
This Taster Box is packed by hand into a presentable branded box with the cutest mini honey dipper, a great way to sample this range. It also makes for a beautiful gift for any honey connoisseur with our luxury gift wrapping!
This Box includes:
1x Delicate Rosemary 45g, 1x Heather 45g, 1x Pink Thyme 45g, 1x Purple Lavender 45g, 1x Eucalyptus 45g, 1x Mini Honey Dipper
Want to replace one or two with another flavour? Not a problem! Just pop it in the notes on the checkout page and we will replace it with your choice!
Excellent selection of honey for a taster to see what your preferences are. I particularly loved the pink thyme.
Amazing as always...
My dad got me on to this company and I never look back! Sweetness and thickness is so satisfying with the different tastes and aromas couldn't recommend more 👌
Very tasty
Really enjoyed honeys, nicely presented, reliable service.
Going to order for Christmas presents
Five sampler jars
Really lovely honey and cute little bee included.
Great gift .
Best Honey
This is by far the best honey I have ever tasted.I absolutely love it and so does all my family, who are hard to impress! These guys who make it are fabulous.