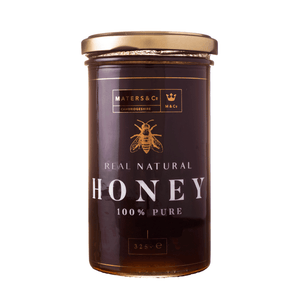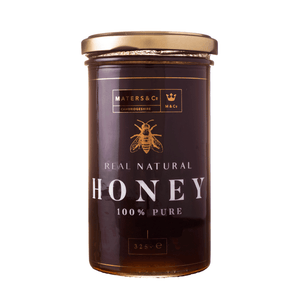 Pure Black Seed Honey (Non-infused)
A Stunning Potent Herbal Honey

The city of Qaseem in central Saudi Arabia is one of the regions with the greatest reputation for growing black seeds (Nigella Sativa). For many years, these seeds have been known to extensively treat a wide range of ailments. In contrast to other honey, which contains complete black seeds, the blossoming seeds of the flowering plant are where bees collect nectar to produce this very special honey.

All the nutritional advantages of the seeds are present in the honey that is produced. Studies show that these may include better regulation of cholesterol and blood sugar, a stronger immune system, and less inflammation.
Numerous studies demonstrate black seed's strong antioxidant qualities and its amazing source of daily nutrition since it is naturally abundant in vitamins and minerals, including vitamins B1, B2, and B3, folic acid, calcium, and iron.

Up to 15 amino acids, calcium, iron, sodium, potassium, and proteins are all believed to be present in black seed. Dithymoquinone, thymol, and thymohydroquinone are its most potent chemical compounds. Further investigation has revealed that black seeds contain a significant amount of sterols, particularly beta-sitosterol, which has been linked to a range of health benefits.


The fact that Qaseemi black seed honey is created by bees that have collected nectar from black seed blooms rather than through infusion makes this premium honey even more nourishing, distinguished, and precious because the black seed's characteristics are transmitted to the honey without the addition of chemicals or flavourings.

This honey is unadulterated and unprocessed, with no additives or preservatives. It has a distinctive flavour and aroma that set it apart from other types of honey thanks to the flowers from which the nectar is collected.

This is a very very rare honey, we only have a few jars available so please get yours to avoid any disappointment! 
Uses
With its rich flavour and superior taste it is advisable to take this honey as and when required.
Not sure about the taste? Why not purchase our beautiful 45g mini jar to sample the taste! 
Produce of Saudi Arabia
So Good!
I got this for a gift, the packaging is beautiful and so nice! The taste is impeccable! Thank you for including the honey dippers! I will be getting more of all your exquisite honey!
Superb raw black seed Honey
This superb raw honey, had a very distinctive indulgent taste. Quite simply one of the best Honey I have tried. And with the added health benefits. A. Wry rare and sought after honey. Thank you Maters & Co. Can't wait for my next purchase.
Black seed honey
Iv have made several purchases from maters and co simply because they offer the best high quality honey.
My most recent purchase was pure black seed oil. Not only is this honey hard to come by in its purest form. It's health benefits are unique.
This honey is divine, it's a real treat to have has the opportunity to get this pure honey and I am enjoying the remarkable health benefits.
Honey
Excellent service and honey amazing