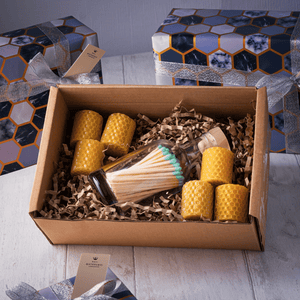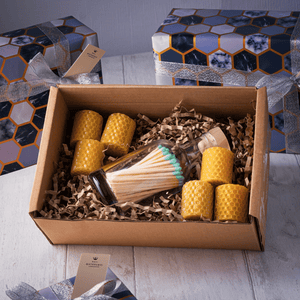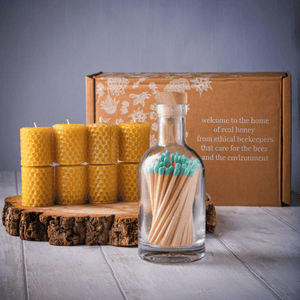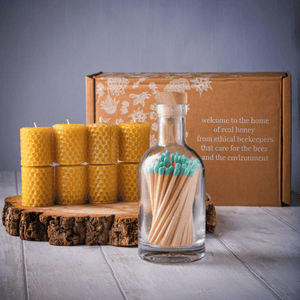 Pure Beeswax Mini Candle & Luxury Matches Gift Set
New for 2021!
This stylish gift set really lets that special recipient know you care! 6 of our beautiful mini rolled beeswax candles paired with our luxury candle matches in a bottle.
Beautifully presented in our branded box with a luxury gift wrap option, sustainably packed and completely plastic-free.
Our mini rolled candles are perfect to set a warm ambience, they last approximately 1-1.5 hours making them ideal for that dinner setting, yoga session or much needed soak in the tub.
Each set is carefully packed into our branded boxes and tissue paper with eco-friendly packaging. 
✔100% pure British beeswax
✔subtle honey scent
✔sourced and made in the UK
✔no toxicity
✔hypoallergenic
✔environmentally friendly
✔self trim, lead free wick
✔non-drip
Candle Size: 3cm height x 3cm wide
Candle Weight: 20-25g
Candle Burn time: approx 1 - 1.5 hours 
Height of bottle 17.4cm
Base diameter 63cm
Wood and Glass
80 matches
Pure Beeswax Mini Candle & Luxury Matches Gift Set
Beautiful gift
Beautiful gift, but the image on the site is extremely deceiving. The candles were a whole lot smaller than expected and do not smell of much but I love that they are natural and it was wrapped beautifully.
An excellent gift that is I am definitely going to order again. Even down to the package - beautiful :)