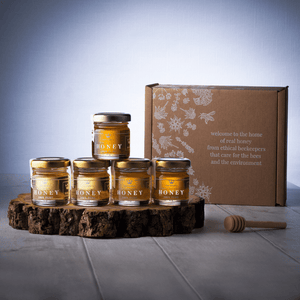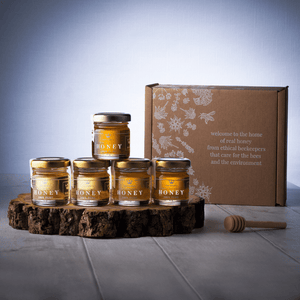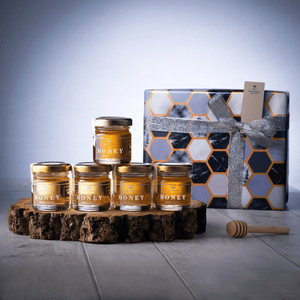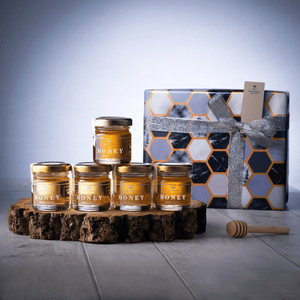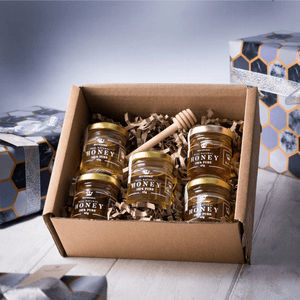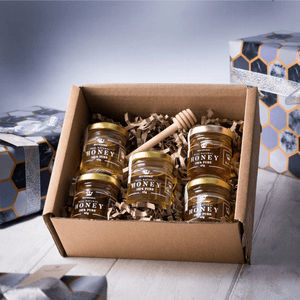 British Honey Taster Set - 5 Beautiful Sampler Jars & Mini Honey Dipper
An award-winning selection of pure British honey to delight a foodie friend or a fabulous way to sample the range before purchasing the larger jars!
This beautiful selection starts from the floral Cambridgeshire Spring and Summer honeys harvested in their respective seasons. Moving onto our rare Cambridgeshire Borage (starflower) honey which has its own unique texture and colour followed by the more citrusy Northumberland Wildflower honey. The set is rounded off by our potent Scottish Heather honey which has been a three time sell-out honey since we launched it in February 2021.
This taster set is packed by hand into a presentable branded box with the cutest mini honey dipper, a great way to sample this range. It also makes for a beautiful gift for any honey connoisseur with our luxury gift wrapping!
This set includes:
1x Cambs Spring 45g, 1x Cambs Summer 45g, 1x Cambs Borage 45g, 1x Northumberland Wildflower Soft Set 45g, 1x Scottish Heather 45g, 1x Mini Honey Dipper
Want to replace one or two for another flavour? Not a problem! Just pop it in the notes on the checkout page and we will replace it with your choice!
6 STARS!!!!
I would give 6 stars if I could! A delicate mixture of light, sweet, creamy goodness all in one cute little set. It's a great gift idea or to try before you buy the bigger jars. Since my purchase, I have discovered that I do prefer lighter coloured honeys compared to their darker cousins. I have tried a wide range of them now and buying these small jars are a wise choice. I would definitely buy this again, I highly recommended. Delivery is prompt, Packing is done well and with a personal touch, really lovely company and customer service is 5 stars! They have a customer for life now. Enjoy your honey!
Amazing Sampler Jars
What lovely little jars of honey - all being given as gifts and I know will be gratefully received!
Very tasty
I cannot decide which one I like best at the moment as they are all beautiful and also a good size for tasters. I will be ordering a few of my favourites soon.
Perfect description
Fabulous gift for Father's Day, delicious selection of British honeys.
Honey review
I have never tasted honey like it. It is amazing. I literally spoon it straight out of the jar. Just because I can. Would definitely recommend and I will be buying again for sure. Thank you so much. xx